Credits for Artwork
I have to give credit where credit is due.
So here are links to some of the places where I found some of the artwork on these pages.
The Goddess Art of Jonathon Earl Bowser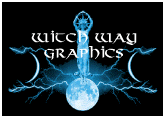 a very good place to find customized pagan graphics.


Unfortuneately this site seems to no longer exist.



visitors to this page since 10 pm, August 25, 2001.